Scaffolding C Lock Systems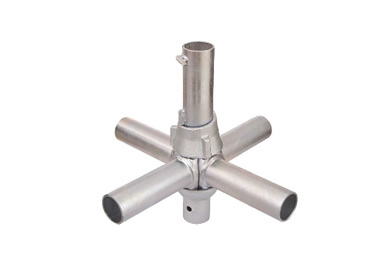 Scaffolding C Lock Systems
Product Specifications
12.7x 3.2 Millimeter (mm)
Product Description
C Lock Systems
C-LOCK is a proven multi-purpose scaffold system which can be used for all forms of access

and support structures in the building and construction industries, shipbuilding, offshore construction and industrial maintenance.

C-Lock provides major savings in erection and dismantling times thus minimizing on-site costs. When not in use, its modular construction ensures minimal space requirements for storage.

C-Lock's unique node point connection allows up to four horizontal members to be connected to a vertical member in one single action - without the use of nuts and bolts or wedges. The locking device is formed by two cups, a fixed lower cup which is welded to the vertical component at pre-located intervals and sliding upper cup.

The forged blade ends of the horizontal components are located into the lower cup, the upper cup is moved down and rotated to secure the components in place and a hammer blow then results in a positive rigid connection.
Component

Weight (Kgs.)

Component

Weight (Kgs.)

Standard 3.Om
Standard 2.Om
Standard 1.0m
Ledger 2.5m
Ledger 1.8m
Ledger 1.3m
Adjustable Base Jack
Intermediate Transom 1.30m
Intermediate Transom 0.80m
Intermediate Transom 0.57m
Inside Board Transom 1.625m
Omega Transom 2.5m
Omega Transom 1.8m
Omega Transom 1.3m
Return Transom
Swivel Clamp Brace 1.3m x 2.Om
Swivel Clamp Brace 1.3m x 1.5m

16.20
11.00
5.40
9.50
7.00
5.20
3.94
6.70
5.80
5.10
8.90
11.50
8.50
5.50
8.78
10.10
8.41

C-Lock Truss Bearer 3.Om
C-Lock Truss Bearer 3.6m
C-Lock Truss Bearer 4.3m
C-Lock Truss Bearer 4.9m
C-Lock Truss Bearer 5.5m
Toe Board Bracket
Socket Base
Swivel Face Brace 2.5m x 2.Om
Swivel Face Brace 2.5m x 1.5m
Swivel Face Brace 1.8m x 2.Om
Swivel Face Brace 1.8m x 1.5m
3 Board Access Bracket
2 Board Access Bracket
1 Board Access Bracket
Omega 3 Board Hop-Up Bracket
Omega 2 Board Hop-Up Bracket
Omega 1 Board Hop-Up Bracket
Handrail Post

28.63
33.86
39.09
45.91
50.45
0.78
2.18
12.80
11.80
11.00
9.70
7.73
6.23
1.50
7.70
6.30
1.50
5.28
Trade Information
Telegraphic Transfer (T/T)

26 Per Day
Contact us for information regarding our sample policy

All India